Jordan's Back to School Journey!–October 1, 2015
Jordan's Back to School Journey!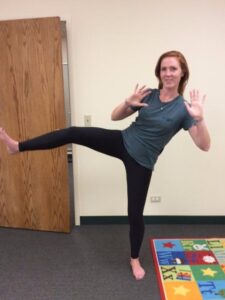 "I constantly had a headache, felt seasick, and had shooting pains through my face and neck. I looked completely fine, so people thought I was completely fine. I was far from fine!"
Fall 2015:  Jordan is in her junior year of college studying abroad for the semester. As typical as it sounds, this achievement is far from her reality just two years ago when she took a medical leave during her first semester.
Spring 2013: Jordan was a college-bound athlete when she suffered a concussion at the end of her senior year of high school. The Winnetka, IL native's head injury would alter her first year of college beyond what she ever could have imagined.
Having experienced a previous concussion from ice hockey in her junior year, Jordan thought the symptoms would subside after a few weeks. After a month, Jordan was still feeling nauseous and getting carsick. Her neck and head constantly hurt, especially when she would attempt to focus on a specific object or person. She was also unable to exercise because of the head pain.
"I was so irritable and I was unable to even read or write without getting a terrible headache," she said. "It was so hard and I was so confused. Why weren't my symptoms getting any better?"
Jordan finished up her senior year and continued her plans to attend Georgetown University, where she garnered a position on the rowing team. Certainly, she and her family would be able to find help over the summer.
Searching for Relief
Summer 2013: Jordan began seeking help trying a neurologist, a physical therapist, a chiropractor, massage, and acupuncture, while also taking a variety of vitamins. She tried to stay positive even though no one seemed to have a clear direction of how she should feel and the amount of time she should feel this way.
"The hardest part was that I felt so helpless during it all. Not being able to control your body is terrifying, but the fact that my injury wasn't visible was even worse," Jordan described. "I constantly had a headache, felt seasick, and had shooting pains through my face and neck. These were all incredibly uncomfortable sensations, yet no one could see them. I looked completely fine, so people thought I was completely fine. I was far from fine!"
By the end of Summer 2013, Jordan and her parents were still searching for help and answers. She traveled to specialists in Texas and got some help from eye exercises, but not enough to relieve the headaches or to allow her to read.
Fall 2013: Freshman year began and schoolwork quickly became intolerable. Jordan had been selected for the rowing team, but had to opt out of participating.
Thanksgiving 2013: By the end of Thanksgiving break, she decided to take a medical leave from school. "I didn't want to be around friends or even want to meet anybody new. I couldn't do anything," she said. "I was doing the eye exercises, taking Tylenol to get through a book, sleeping, and still doing acupuncture. It was not the way to spend your first semester of college."
Still Searching
Winter 2014: Back in Illinois Jordan and her parents were not giving up. They spent months searching for an answer, going from one doctor to another, going from one state to another. Nothing seemed to be working to resolve all the issues. Jordan was ready to try something new.
April 2014: Jordan met Cara. Jordan and her parents had learned about Kinetic Konnections through friends. When she came to see Cara, it was nearly a year after the second concussion. She was still suffering from headache and pain triggered by physical movement and/or visual tasks, as well as experiencing balance issues.
New Perspectives, New Progress!
Jordan was feeling change after just a few sessions with Cara. The headaches, once brought on by reading and writing, were subsiding. She could do a few hours of work in a stretch before experiencing any head pain. She was even able to stand being in a car without getting seasick sensations.
Summer 2014: Jordan was feeling well enough to attempt a writing course and she even drove to Chicago on expressways for the course. Reading, writing, and driving, all definite signs of progress!
Jordan visited Kinetic Konnections every three to four weeks from April to August 2014. Each time, she was feeling more and more like herself. She was ecstatic. She hadn't felt this good since before the accident.
August 2014: Toward the end of that summer, she, along with her parents, felt she was ready to go back to school. "I'm so grateful for my parents and their continued support and of course, for Kinetic Konnections," she said. "I felt the real difference when I saw Cara."
Return to School!
Fall 2014: Jordan completed course work and enjoyed her time as a college student. Though she decided not to pursue the rowing team, she returned to her moderate workouts and began a program to become a certified yoga instructor. She was excited for the future.
"The number of interventions we tried still shocks me when I think about it," Jordan said. "I am so grateful that I found Cara and have recommended her to every other concussion patient I met during this long journey."
Spring 2015: A full year of school complete and only a handful of credits behind, Jordan had nearly caught up. She still stopped in to see Cara and the Kinetic Konnections team for tune-ups when visiting town.
One Step Back and Two Steps Forward
Summer 2015: Life goes on and Jordan had a couple small encounters with her head. Each proved to be an opportunity to refine sensory integration and balance and to improve the reactions of protective postural responses.
Another summer course and she was all caught up on credits! Jordan's internship for the summer involved watching and analyzing videos—something unthinkable a year before!
Back to School!
Fall 2015: Back to school time finds Jordan studying abroad for the semester. Yay!—Jordan is truly back to her old self!
Comments from Cara
I clearly recall the overcast day In April 2014 when I met Jordan. The office lights were turned low to minimize stress from the bright fluorescent lighting.  A fragile young woman entered; she had been reduced to a shadow of herself by an event typical of teens clowning around.
We began the methodical process of assessing extremely basic stabilizing responses of her head and body. Step-by-step we restored symmetry to her core function and centered her head.
The prior hockey injury to her right shoulder and head (the first concussion from 2013) proved to be the more significant injury. It had destroyed the majority of stabilizing relationships between her head, neck, and shoulder.
So Subtle Yet So Significant
The nano-movements were key to re-building the stabilizing relationships between her head and body. Micro-movements also had to be specifically restored in many postural combinations. Much like a music theme and variations, we had to re-program a full repertoire of movement.
Further complicating Jordan's recovery was the realization that there were additional head injuries or traumas in the past—a skiing accident in her early teen years and a fall as an infant. They all left a distinct imprint to the movement of her head. We truly are a walking history of all our impactful experiences.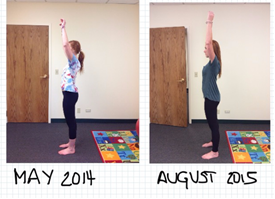 Once her body and head were more stable, we began working to re-integrate her visual system. The sensory system integration was most important—we had to re-synchronize the full set of movements to her vision and then we had to re-synchronize her vision to movement.
As the months and seasons passed we refined movement, balance, and visual integration. New situations brought new challenges. To provide perspective, I saw Jordan seven times over a period of five months before her return to school, five times during the school year, and four times each for the two "oops" in the spring/summer of 2015.
The vibrant smile and twinkle in her eyes are visible indicators—Jordan finally is feeling as great as she looks! I expect great things from this amazing young woman.
From infants to adults, we restore your nano- and micro-movements quickly returning you to the movements that define your life!
Note from Cara
The parenting saying of "the bigger the kids, the bigger the challenges" takes on new meaning with our story this month.
The hardest feeling as a parent is to watch a child struggle, try our best to help, and feel helpless when we don't know where else to turn. (My experience is with my son; I'll be writing more about his journey later this year.)
I met two parents a year ago—their college-bound daughter was not recovering from her head injury and, despite the best resources they could find, she still wasn't better. Concerned, frustrated, and afraid, the first signs of progress came a long-awaited sense of relief.
They are truly proud of how their daughter has emerged from the cloud of her head injuries and look forward to her accomplishments in school and life!