Beginning the New Year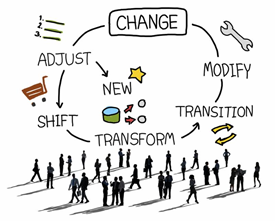 Many of us set goals for the year and attainment of these goals generally involves an element of change. As the Change Model graphic shows, transition is essential.
What If We Are Stuck at The Transition?
We consistently find that being stuck in a life transition correlates to being stuck in a movement transition. When we help you get physically un-stuck, the rest seems to flow!
My cousin Nancy reminds me every time I talk with her that getting her healed, but stuck knee unstuck, has given her back her active life. Her friends with similar knee pains are slowing down or stopping activity which used to define their lives. They were not able to transition back from their injury.
Our children are often stuck with achieving movement milestones, educational skills, or social-emotional growth. We find the richness of integrated sensory experiences with movement control has gaps. When we close the foundational gaps, so much improves in their lives so quickly!
Follow along this year as we share stories of transitions of so many types and ages!
Enjoy Some Frequently Asked Questions
What do we do?
At the end of the day, we are really good at getting people of all ages unstuck with developmental transitions, learning transitions, and/or getting back to living after illness, surgery, or injury.
Cara's goal is to run a half marathon this year and she is hoping to transition to easier breathing! Joanna and Shannon are shown untwisting Cara. (Her breathing is stuck from several bouts of pneumonia as a child.)
What do we do in our spare time?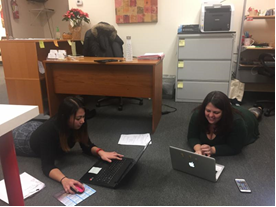 We plan more ways to help with the challenges of parenting children who didn't come with an instruction book.
Michaela and Joanna were hard at work setting up our new Meet-Up group "Parenting Conundrums."
Yes, we hang out on the floor a lot, even in our team meetings!
Who helps us when we need a tune-up?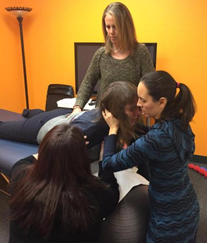 Very kind of you to ask!
We take advantage of team meeting time or down time during the day to help each other unwind or get re-centered.
Becki is shown getting her head fluffed out and re-centered by Joanna, Lynne, and Leslie. Following travel and a cold, Becki was feeling stuck with the congestion.